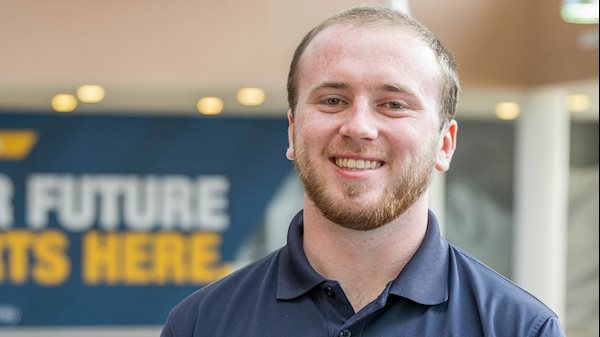 Why did you choose WVU, Seth?
I chose the West Virginia University nursing program partially because when I stepped on campus when I was a junior in high school, I feel in love with the school, with the pride of the school. The gold and blue is contagious. The guy who gave me the tour told me he didn't even walk in his graduation ceremony. Instead, he spent his time in New Zealand. I was like, "Oh, that's pretty cool."
I decided that it was a great place for me to be, a place for me to grow as a person, a place for me to expand as an individual and see new things. I also chose West Virginia University as a whole because I think the opportunities for success are limitless. You can choose what you want from week to week to do. You can try new hobbies; you can try new events; you can learn from different people all over the world. For me, it was a great place to be.
Watch our interview with Seth!
Now you're a senior. Looking back on your four years in the School of Nursing, do you feel like you are well prepared to take on a nursing career?
Absolutely. I think the nursing program here is extremely rigorous. I think a lot of what we do is we are challenged to critically think every day. I think it has allowed me to critically think in areas outside of nursing as well. With the broadened horizon that the university gives me and then the focus sense of nursing that the School of Nursing gives me, has allowed me to develop critical thinking skills that I didn't know I had.
It also allowed me to understand different patient populations. Coming where I come from in Pennsylvania, the patient population is a lot different than what it is here in West Virginia University. I think, for me, going away from home to gain experiences elsewhere is going to benefit me tremendously when I go back home to begin my foundation of my nursing career.
What would you say to someone who was looking at WVU for school nursing? Why would you tell them to come here?
I'd tell you to come here, one, because you have Ruby Memorial Hospital right beside you. Ruby Memorial Hospital is one of the best hospitals I have been in and I have been in quite a few around the country, whether it be from injuries or whether it be from just exploring myself to see what places have to offer.
I think Ruby Memorial, having the trauma center does, being a level one trauma center, having the magnet hospital status, I think all of those things ... You might not understand it when you come in as a sophomore to the program but by the time you finish, you understand the magnitude of what Ruby reaches out to.
They reach out to the entire State of West Virginia and beyond. I think that's unique to itself. A lot of other hospitals compete with big hospitals within the same area. Ruby is not really competing with anybody except for themselves. For me, the expanded growth of Ruby throughout my four years here has been enjoyable to see. Getting a new heart and vascular institution has been kind of nice because the patient population has grown even since then.
I think the other reason is they prepare you so well here. We were calculating the other day in class that I've probably taken over 200 exams. I know that sounds like a lot but between practice exams and all these things, you want to be prepared as a nurse. I don't want to go in and take care of my mother and not be prepared. I always think of nursing as you've got to be willing to take care of your patient as much as you would take care of your own family, your own mother, your own father.