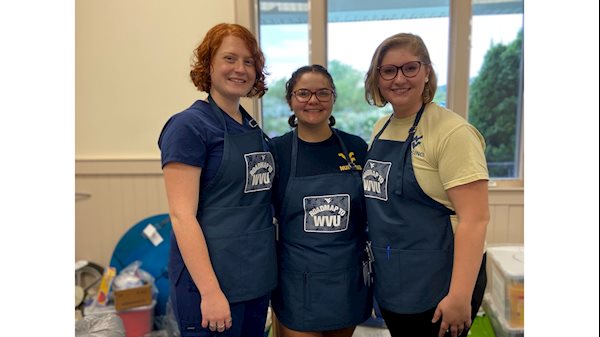 Pictured from left: Kali Fischer, Jenna Wermers and Cat Myers.
FAIRLEA, W.Va. — Three members of the West Virginia University Student Nurses' Association attended the State Fair of West Virginia, offering sensory experiences to attendees of all ages.
Kali Fischer, Cat Myers and Jenna Wermers, Bachelor of Science in Nursing (BSN) students with the WVU School of Nursing, shared educational information, giveaways and hands-on sensory experiences, such as food color painting, blind guessing game and slime-making (glitter included).
"With the food color painting, kids and adults could place some shaving cream down, top it with food coloring, swirl it around and then place a piece of paper on top," Wermers explained. "Once the shave cream is wiped away, there is a beautiful, marbled painting left behind."
For the blind guessing game, attendees were invited to put their hand in a box and try to guess what they were holding inside.
"This is an exciting game that has many benefits, depending on the setting," Wermers said. "In this case, it was a fun mystery experience that allowed children to test their ability to 'see with their hands,' and at the end, they got to keep whatever they were holding."
Myers said the guessing activity also helps to develop critical thinking skills, as your brain is receiving signals that are contradictory to what you can see.
The group also created an infant sensory mat, featuring low-cost items of different colors and textures sewn onto a beach towel.
"This was done for under $15 with items that could be purchased from Walmart or a dollar store," Myers said. "We wanted to show that the sensory mat and other activities can be accessible in every price bracket, whether you buy branded items or play with what you have on-hand at home."
The student nurses offered a pamphlet featuring QR codes with information about sensory play for all ages, including how-to guides, Myers said. They also offered resources for parents to use as conversation starters with their children about difficult topics, like sex, drugs and suicide.
Attendees who stopped by the SNA booth could also grab some free School of Nursing and SNA swag. Myers said they received so much positive feedback from all the participants, adults and children alike. One Greenbrier County teacher even said she planned to use the blind guessing game with her students as a welcome back to school activity.
"It is important for nurses to interact with the community to increase public knowledge, health literacy, and help to make them comfortable with the presence of medical professionals," Wermers said.
She added, "It is important for students to participate in events like this to gain experience working with the public and to bring some more captivating and relevant ideas or information to the community we serve."
While the SNA activities were only on site for the opening day of the State Fair, the WVU Building is open 10 a.m. to 6 p.m. WVU Extension and WVU exhibits will be available, as well as WVU-themed prize drawings that take place at noon and 5 p.m. daily.
-WVU-
CONTACT: Wendy Holdren
Director of Communications and Marketing
WVU School of Nursing
304-581-1772; wendy.holdren@hsc.wvu.edu