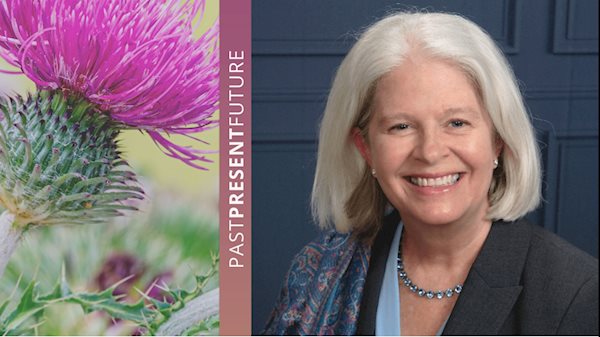 After being introduced to essential oils in 2014, Marian "Marni" Reven, an assistant professor in the Adult Health Department of the WVU School of Nursing, became passionate about the use of aromatics in health and care.
She was inspired to earn her PhD in Philosophy of Nursing Science because of an aromatics study in 2019. But while working on a systematic review for a study the following fall, she realized she couldn't replicate the aromatic interventions in the randomized controlled trials because the information was so limited.
"Aromatic research in those studies was like seeing a beautiful cake, but the recipe wasn't there," Reven explains. "No matter how good the cake was, nobody else could make it."
With the assistance of her colleagues, Reven is aiming to standardize "the recipe." She will share their efforts in a presentation, "Aromatic research at the crossroads: Time to set the course," at the upcoming Botanica2022 conference. Set for May 20-22, Botanica2022 is the leading international conference for clinical aromatherapy and related herbal therapeutics. Twenty-six speakers from 13 countries will be represented.
"Health and care are our ultimate goal," said Reven, who has more than 30 years of experience as a registered nurse. "We've seen the benefits of aromatics. Now, we're trying to clearly reveal the methods and science behind it."
There has been an exponential increase in aromatic research over the past 20 years.
"The studies are encouraging — people feel better because of having aroma in their lives, but the studies often do not give specific details about the essential oils or about how and why the researchers did what they did."
Beginning in January 2021, Reven invited about 25 researchers, scholars, and aromatic practitioner colleagues from around the globe to compile preliminary information for what would later become a critique tool. This is a project designed to bring attention to the state of science in aromatics.
"We are now the Aromatic Research Quality Appraisal Taskforce (ARQAT), and have developed an actual critique tool called TREATS (Transparent Reporting for Essential oils & Aroma Therapeutic Studies)," Reven said. "This and the Explanatory Document to the TREATS is being beta tested with experts throughout the world."
ARQAT, of which Reven is the president and founder, is a nonprofit organization in West Virginia and has plans to publish articles in several international journals with the first submission occurring by June 2022. She also hopes to see the TREATS tool included in the newsletter of the Cochrane Library.
As the only registered aromatherapist in the state of West Virginia, Reven has been invited to speak in many venues including the West Virginia Nurses Association about her research regarding aromatics. While she hopes the standardization around aromatics research will impact West Virginia and the United States, the overall focus is international.
"From all indications, everyone in health and care, and the world of aromatics, benefits from creation of quality assessment and reporting guidelines. We anticipate support in the medical community. We're in an evidence-based practice era and therefore seek evidence we can trust."
-WVU-
CONTACT: Wendy Holdren
Director of Communications and Marketing
WVU School of Nursing
304-581-1772; wendy.holdren@hsc.wvu.edu