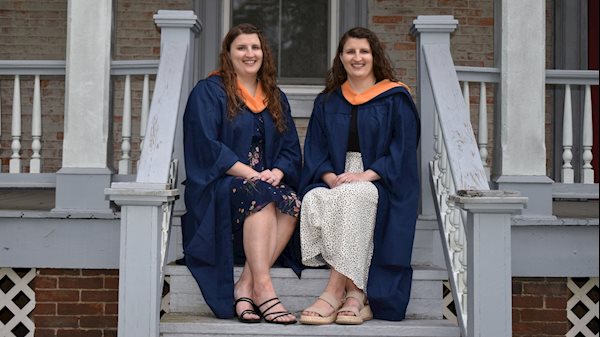 Twins Courtni LaRue DeWitt (pictured left) and Julie LaRue Smith (right) have both completed the WVU School of Nursing Master of Science in Nursing (MSN) program.
From taking their first steps as children to taking their first steps across the stage at graduation, twins Courtni LaRue DeWitt and Julie LaRue Smith have been walking through life together.
The siblings are set to graduate from the West Virginia University School of Nursing this May after completing the Master of Science in Nursing program.
As natives of Preston County, this isn't the first time Courtni and Julie chose to stay close to home to future their education.
"My sister and I are best friends and have been our whole life," Julie said. "We both received our BSN at WVU and had a wonderful experience. Having someone who knows exactly what you're going through – balancing school, work and life – has been such a huge help."
"As children, we always came to Morgantown, and I always thought I would go to WVU," Courtni recalls. "I heard how great the nursing program is at WVU and how well prepared their nurses come out of the program. I also was able to visit the STEPS lab which I thought would benefit my learning experience. I wanted a great education that provided a good foundation going into the nursing field."
"I felt very prepared upon graduation and wanted the same experience with my master's degree," Julie added. "So, when thinking about starting Family Nurse Practitioner school, it was only natural to go through WVU."
The Master of Science in Nursing program's specialty track prepares students to certify as family nurse practitioners. The program is offered fully online by faculty at the Morgantown and Charleston campuses. Family Nurse Practitioner track graduates are prepared to offer care at the advanced practice level to a variety of populations and in a variety of settings.
For the clinical practice portion of the curriculum, the sisters were able to serve their hometown, and they plan to continue providing care in the area following graduation.
"I get to take care of people that I have known most of my life or have some form of connection to them from where we live," Julie said. "I have learned so much and am so grateful for the experience at the clinic. I would love to stay local and work in my hometown."
"It has been nothing less than a humbling experience to learn and work side by side with mentors I have grown up knowing in my community," Courtni said.
She also says the support they received from the Health Sciences and Technology Academy, known as HSTA, has influenced her desire to continue serving West Virginia's residents.
"Julie and I both were fortunate enough to have HSTA tuition support throughout our BSN and MSN degrees. I know for myself, HSTA always instilled in myself to stay in my community and serve as best I can with my degree.
"I have been offered an FNP position in Preston County as a primary care provider. I truly love my community, so I feel completely blessed to have been offered a position that allows me to stay in my hometown."
As they complete their training and continue their journeys in the nursing profession, Courtni and Julie have reflected on their time in the School of Nursing and the bonds they have created and strengthened throughout their undergraduate and graduate studies.
"It's so important to have a good support system to help you along this journey," Julie said. "I have been blessed with a great support system from my husband, family and friends."
"I have had a great support system from my husband, family, friends and community when I completed my BSN at WVU as well as my MSN degree," Courtni added. "I think most students will find that they will meet people at WVU that will become lifelong friends.
"It is hard to describe the relationship that I have with my twin sister, Julie, and only twins might understand what I mean, but she is my best friend," Courtni said. "She is the person that completely understands what I go through daily in this program because she has been through it herself. We have always had each other to lean on. This support system is especially special in this program because we can rely on each other to keep one another on track.
"I am excited for what this next chapter brings. Julie and I will be working together as FNPs and will continue to always support each other with what may come next."
-WVU-
sb/jw/5/5/23
CONTACT: Wendy Holdren
Director of Communications and Marketing
WVU School of Nursing
304-581-1772; wendy.holdren@hsc.wvu.edu