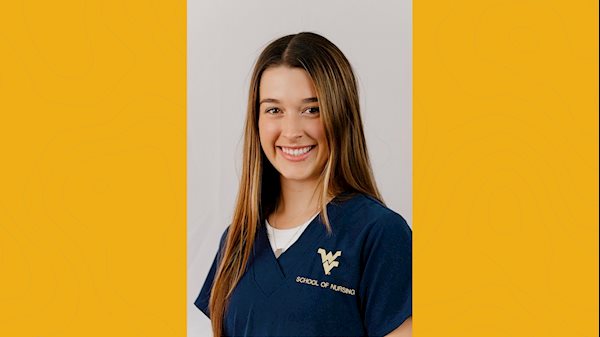 During her community placement in the Fall 2022, Rachel Gobrecht noticed many children at White Hall Elementary School near Fairmont were overweight and did not enjoy physical activity opportunities on the playground.
"As part of our coursework, we were tasked with finding a prominent health issue in the area and how we planned on making a difference with it," shared Gobrecht, a senior at the WVU School of Nursing.
She surveyed the town of White Hall and discovered that the only playground in the community was at the elementary school. She further researched how to make physical activities more interactive to help target social determinants of health in rural communities.
"I found out about exergames (technology-driven physical activities) and wanted to implement that into my capstone," she said. "I found an app called Biba that's free on the App Store. It can be added to any current playground or built in with a new one."
Biba is an app featuring mobile games that turn screen time into outdoor play. A feature of the app tells park managers how often the playground is used and when. It also lets the parents know if their children are meeting physical activity requirements.
"It has really fun games for the children to play along with, depending on the equipment in the playground," Gobrecht explained. The app can be used at an existing playground or incorporated into new ones.
To get feedback, she presented the idea of a Biba playground to the third grade class at White Hall. She prompted them to draw their dream playground and asked them to check "yes" or "no" if they would like to have a Biba playground — all 15 students indicated yes.
With the research Gobrecht gathered, as well as the student feedback, she presented the concept to the Marion County Parks and Recreation Commission.
"They loved the idea and contacted Biba right after my presentation," Gobrecht said. "I also asked if the next playground could be built in White Hall."
The Parks and Recreation director has recently shared with her that Biba will be installed at East Marion Park in early spring.
"There currently are no Biba playgrounds in the northern area of West Virginia, so this will be a great addition!" Gobrect said. "I've felt so grateful to have a class that allowed me to make an actual difference in a community. Watching my project be just an idea to becoming an actual interactive playground has made me really proud."
She said she has always loved giving back to her community and having a connection to nursing makes it all the more meaningful.
"Through a lot of research, I saw how ways to combat childhood obesity and mental health issues combined was lacking. By intertwining an interactive app and a playground I hope families will become more connected and enjoy getting outdoors to exercise through play. I can't wait to work with children when I graduate and will always think back to the difference I made in the White Hall community!"