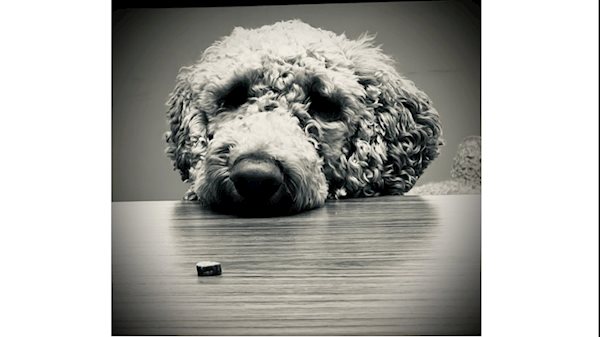 CHARLESTON, W.Va. — When Tucker was just a puppy, his soon-to-be human was having a rough time. It was the middle of a global pandemic, and many people were turning to newly adopted pets for comfort.
"Tucker is a COVID dog," shared Dr. Theresa Cowan, WVU School of Nursing Charleston Campus chair. "I needed him to maintain my sanity. He is also the first dog I have had without children and afterschool activities."
Cowan adopted the standard poodle when he was just 8 weeks old. Now, at age 2, Tucker is expanding his capacity to comfort by becoming a therapy dog.
"My niece is an elementary school principal and she had mentioned how well struggling students responded to having a dog sit with them," Cowan said. "Tucker has a natural calmness about him, and we were in weekly dog school needing an aim."
With the time to devote to training, Cowan and Tucker decided to focus on obedience and tricks at his school. Since beginning, Tucker has earned 12 AKC certifications for all obedience levels and tricks to the level of elite performer. In addition to basic tricks, such as shake hands, Tucker can perform advanced tricks, like jumping through hula hoops and answering yes or no questions with a head shake.
"Most impressive is his ability to read three words in English and in Spanish. He knows 'sit,' 'wave' and 'touch.' I guess that makes him bilingual," Cowan said with a laugh.
The two have recently started visiting elementary schools to help youngers in need of some puppy love. They hope to soon visit healthcare facilities as well.
"I have worked with him on laying his head in your lap for pets, which is helpful with wheelchairs or persons in chairs. He also has no shyness around walkers or canes."
The endeavor is just getting started and Cowan is already seeing the rewards of working with a therapy dog.
"Seeing how people enjoy his visits has been a great experience," she said. "We plan to add certifications to his resume, which will give him a diverse background for the work."
-WVU-
CONTACT: Wendy Holdren
Director of Communications and Marketing
WVU School of Nursing
304-581-1772; wendy.holdren@hsc.wvu.edu