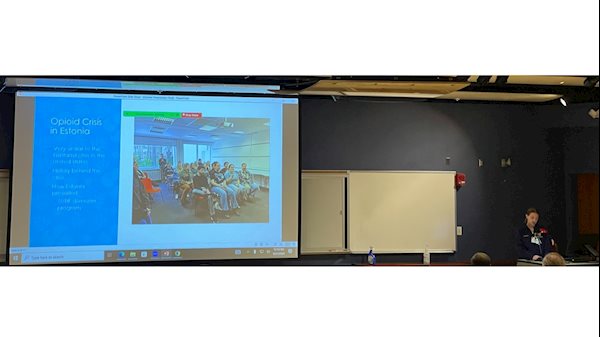 When junior WVU School of Nursing student Maleah Cline got an email from the Global Affairs office with the opportunity to study abroad in Estonia, she was beyond intrigued.
Cline had recently lost her father, a big supporter of her nursing and addiction studies education, and felt like she should apply for the trip to experience something new.
Estonia is a small country in Northern Europe that has had its struggles with statehood, poverty and drug addiction, specifically opioids. Cline's focus during the trip was to study how Estonia had been affected by the ongoing opioid crisis and to learn more about addiction treatment methods.
"My family has had a significant history of addiction, so I wanted to learn more about it in order to spread awareness," Cline said.
After working with and learning from mental health and addiction professionals, Cline observed that the addiction programs in Estonia were much more progressive than those in the United States, focusing on treating addiction as a mental health issue.
In her presentation for Global Health Week, Cline detailed the methods used in treating addiction in Estonia. One of the programs she highlighted was a diversion program in which those struggling with addiction are paired with mentors who have gone through drug addiction themselves. The mentors offer a variety of resources to their mentees including access to social services.
Cline said, "This process has helped build a nonjudgmental safe space for these individuals allowing them to build trust and get back into society."
While she doesn't know exactly what post-grad life will bring her, Cline intends to pursue a nursing career that pertains to her interest in helping those with addiction.
"I do not know exactly what I want to do yet, but I plan to stay at Ruby Memorial Hospital for a few years, and being in West Virginia, I can expect to see instances of substance misuse and addiction."
-WVU-
gu/11/08/2023
CONTACT: Wendy Holdren
Director of Communications and Marketing
WVU School of Nursing
304-581-1772; wendy.holdren@hsc.wvu.edu