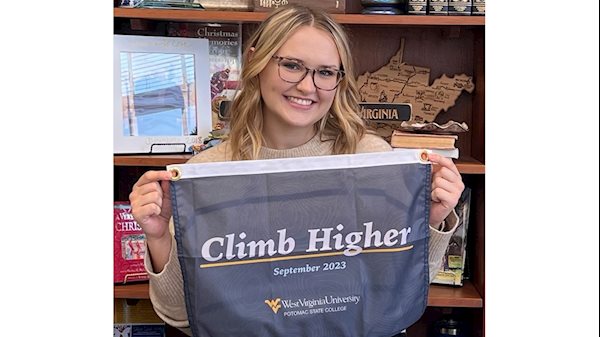 Cadence Carpenter, a Bachelor of Science in Nursing (BSN) student at the West Virginia University School of Nursing Keyser Campus, has been presented with the Catamounts Climb Higher award at WVU Potomac State College.
Climb Higher recipients are recognized for their ability to bounce back despite encountering obstacles, for overcoming challenges, and for staying the course. Recipients are also recognized for their outstanding work ethic, kindness, and positive attitude. Although this award is not based on GPA, recipients must be in good academic standing.
"Time management was a challenge for me. Being a nursing student is tough, but April Shapiro and the entire nursing staff have made so many resources available to us that it has made a huge difference in our success," said Carpetner, of Berkeley Springs. "The people at PSC will go above and beyond for you if you prove you are dedicated. The help that the faculty will give you is beyond what I have seen at other schools."
Carpenter also admits that she was somewhat shy when she first came to Potomac State: "Kara Hotchkiss has helped me get out of my bubble and become a more outgoing person," she added.
Carpenter enjoys participating in the college experience by staying active on campus. She serves as a resident assistant in Memorial Hall, is a member of the Life Science Club, and serves on the Student Government Association.
She often volunteers in her local community, at Greenwood Community Center, and with Bible School at her church in Berkeley Springs.
Carpenter encourages other students to participate in the activities provided for them on campus, "Meeting new people is so important to becoming a young adult in today's world," she added.
-WVU-