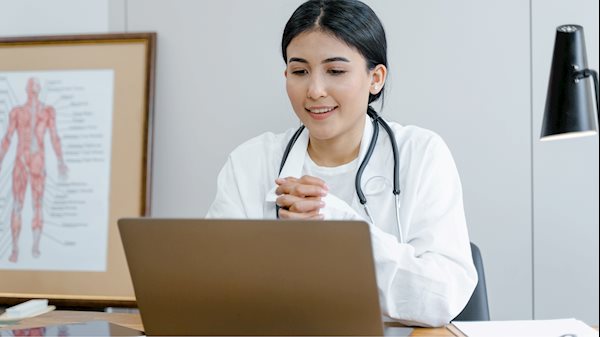 The WVU School of Nursing's Faith Community Nursing initiative celebrated its first telehealth visit on April 25 in McDowell County, providing mental health services to a rural resident who would have otherwise been unable to access the specialty care.
Melissa Coleman, an ICU Nurse Manager and WVU School of Nursing-trained faith community nurse, coordinated the telehealth visit from her faith community practice site at the Bradshaw Church of God.
The community member came to the church and Coleman assisted the individual by logging in for the mental health appointment, which was conducted by Zoom with a nurse practitioner specializing in psychiatric mental health.
"West Virginia is the third most rural state in the nation and in the most rural parts of the state, we see isolation and very limited access to specialty care, including mental healthcare," said Dr. Angel Smothers, Associate Dean for Community Engagement.
"This milestone serves as a wonderful example of how the School of Nursing, partnering in a reciprocal fashion with nurses, community stakeholders and community members across the state, is serving to fulfill our land grant mission," Smothers said.
The Faith Community Nursing initiative aims to continue building nurse-led access-to-care points within faith communities across the state.
"Our goal is to connect rural community members with care using telehealth technology," Smothers added.
Funding for internet service for the faith community nursing site was made possible by a donation from Rusty and Kimberly Hutson. The gift was awarded via the WVU Foundation, the nonprofit organization that receives and administers private donations on behalf of the University.
For more information about Faith Community Nursing, please contact Dr. Angel Smothers at angel.smothers@hsc.wvu.edu.
-WVU-
CONTACT: Wendy Holdren
Director of Communications and Marketing
WVU School of Nursing
304-581-1772; wendy.holdren@hsc.wvu.edu