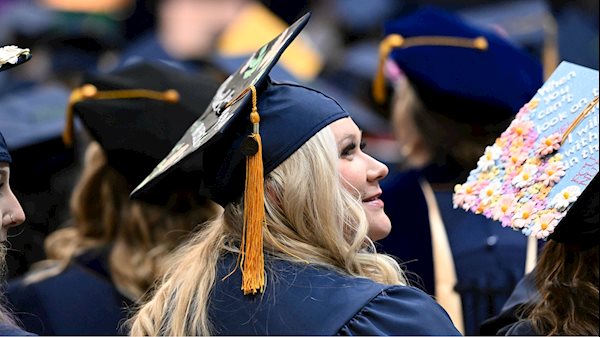 MORGANTOWN, W.Va. — West Virginia University School of Nursing graduates of the Master of Science in Nursing - Family Nurse Practitioner program recently received a 100% first-time pass rate on their certification exam.
All the 2022 graduates who took the American Academy of Nurse Practitioners certification passed on their first attempt, according to recently received results from the AANP Certification Board. The FNP certification exam is an entry-level competency-based examination that tests clinical knowledge in family/individual across the life span, including prenatal, pediatric, adolescent, adult and elderly primary care.
While WVU School of Nursing rates have been well above the national benchmark of 86% (with a 91% first-time pass rate in 2020 and 96% in 2021), this marks the first time in recent years the program's graduates have achieved a 100% pass rate.
"Our program continues to improve to prepare and strengthen our students' ability to successfully pass the certification test on first attempt," said Dr. Billie Vance, director of the MSN and Doctor of Nursing Practice programs. "I think these results reflect the quality of our program."
The Master of Science in Nursing offers baccalaureate-prepared nurses the opportunity to earn a master's degree on a part- or full-time basis. Students can opt for one of two specialty tracks, including pediatric or family nurse practitioners. FNP graduates are prepared to offer care at the advanced practice level to a variety of populations and settings.
"While the certification pass rate of our MSN FNP students is excellent news, it comes as no surprise," said Dr. Tara Hulsey, Dean and E. Jane Martin Endowed Professor. "Our expert faculty not only prepare our students for successful completion of their program and for passage of their exams, but also for skilled and compassionate patient care, which is essential in West Virginia and beyond."
Hulsey added, "We recently celebrated a similar success with the 100% NCLEX pass rates of our BS/BA to BSN program. This further underscores the academic excellence of the WVU School of Nursing, whether at the undergraduate or graduate degree level."
-WVU-
CONTACT: Wendy Holdren
Director of Communications and Marketing
WVU School of Nursing
304-581-1772; wendy.holdren@hsc.wvu.edu