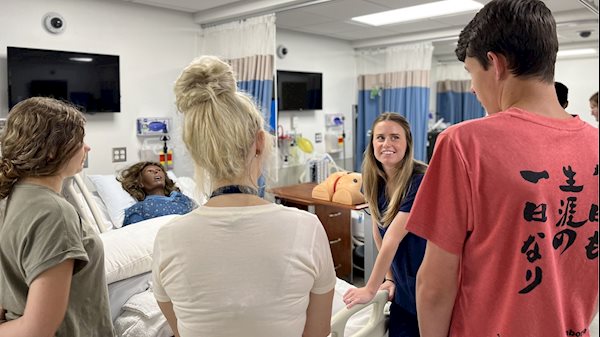 MORGANTOWN, W.Va. — The West Virginia University School of Nursing will be hosting its first Summer Camp on Friday, June 2, for high school students who are interested in nursing as a career.
During the one-day event, students can experience what it's like to be a nursing student by participating in an information session, a mock lecture and hands-on learning opportunities at the West Virginia Simulation Training and Education for Patient Safety (STEPS) Center.
"This is a great opportunity for high school students to get an idea of what it's like to be a nursing student and what it's like to be in the nursing profession," said Phillip Engelkemier, College Recruitment Specialist for the School of Nursing.
Students will be able to meet faculty members, including Dr. Brad Phillips, Associate Dean of Undergraduate Programs; Joanne Watson, Director of the Bachelor of Science in Nursing (BSN) Program; and Stacy Russell, assistant professor.
Student ambassador Aiden Slusser will also be at the event, so attendees can learn more about the program directly from a current nursing student.
Attendees will receive a WVU School of Nursing shirt and lunch will be provided. Registration will be limited to the first 50 students who sign up.
Please fill out the Qualtrics form to register.
For more information, contact Phillip Engelkemier at phillip.engelkemier@hsc.wvu.edu.
-WVU-
CONTACT: Wendy Holdren
Director of Communications and Marketing
WVU School of Nursing
304-581-1772; wendy.holdren@hsc.wvu.edu