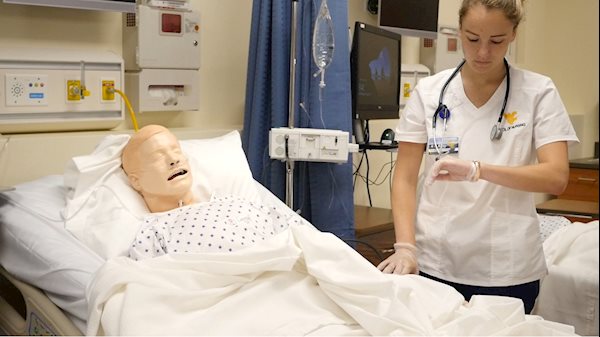 KEYSER, W.Va. — Designed to create a direct pathway for licensed practical nurses to earn their Bachelor of Science in Nursing (BSN) degree, the West Virginia University School of Nursing will soon offer an LPN to BSN program on its Keyser Campus at WVU Potomac State College.
"This program will build on experiences of LPNs and help them climb the ladder of nursing to open more doors and build more opportunities," said Dr. April Shapiro, Keyser Campus Chair.
The program aims to bridge the gap between LPNs and registered nurses. In many instances, students would have to complete an LPN to RN program, then an RN to BSN program. However, the LPN to BSN program provides a more streamlined path to achieve a bachelor's degree.
Many LPNs work in nursing homes or in office settings, but obtaining a BSN degree provides an opportunity to work in more specialized settings, leadership positions and more.
"Ultimately, a BSN degree provides more opportunities for nursing as they climb the ladder," said Shapiro, a former practical nursing educator. "We've seen the need. This program arose from students wanting a seamless pathway to help them obtain their BSN degree."
Students can receive up to 22 hours of "escrow credits" for their current licensure and professional experience, which translates to more than a semester's worth of work. One course in the program, NSG 213, has been designed specifically to help LPNs as they transition from practical nursing to professional nursing, and afterward, these students will be on the same track as the traditional BSN students.
"This transitional course will help them with assessment skills and clinical judgment," Shapiro said. "We want to help them make that transition as smooth as possible."
The program also boasts accommodating hours, offering the didactic portion of the program online and the clinical, simulation and skills portions on the Keyser Campus on Fridays and Saturdays. Students will also have access to a professional advisor through the Office of Student Services, as well as an academic counselor and peer tutoring.
"There is a lot of support built in place for students as they progress," Shapiro said.
As part of the Potomac State Campus, students can experience smaller class sizes and more personalized education, with only 16 students in each cohort and clinical groups no larger than eight.
The program (pending all approvals) will be fall-start only, will require eight semesters of full-time enrollment, and aims to begin taking applications in December 2023 — the first class is planned to enroll in Fall 2024 and graduate in May 2027.
"This program provides a seamless curriculum for our practical nurses to enter professional nursing," said Dr. Tara Hulsey, Dean and E. Jane Martin Endowed Professor. "This option will help us grow the nursing leaders needed to meet healthcare demands in state and beyond."
The program is in the final stages of approval through the WVU Board of Governors, the Higher Education Policy Commission and the West Virginia Board of Nursing.
-WVU-
CONTACT: Wendy Holdren
Director of Communications and Marketing
WVU School of Nursing
304-581-1772; wendy.holdren@hsc.wvu.edu