May Commencement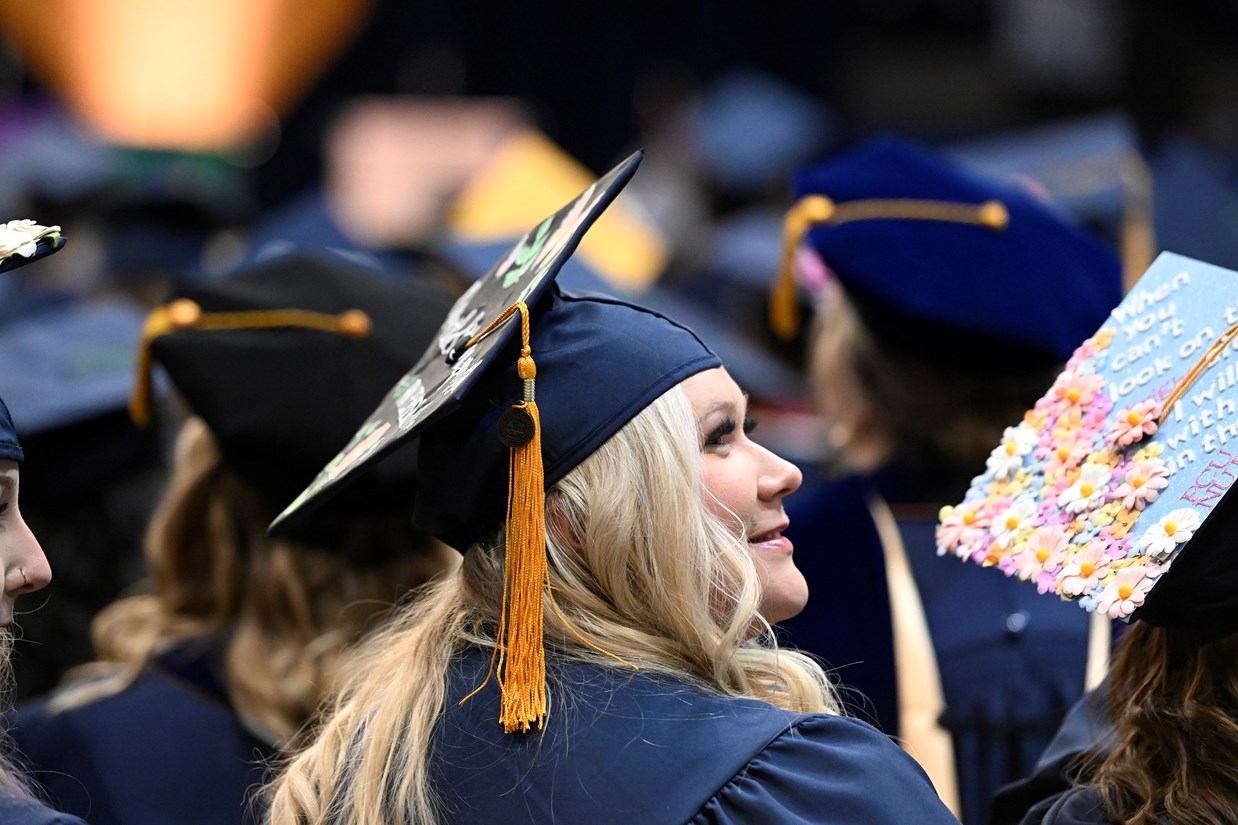 Commencement ceremonies prove to be an exciting day in university life when the students who come to this institution seeking higher learning, and in the School of Nursing's case, preparation for a profession, have completed this challenge and are ready for the recognition the university confers with awarding of the degree. We look forward to acknowledging and celebrating the accomplishments of our fine graduates.
Our commencement ceremony will be held on Saturday, May 13, 2023, at 4:30 p.m. at the Canady Creative Arts Center. Tickets are NOT required for Commencement, and there is not a limit on the number of guests permitted. In addition to May 2023 graduates, we also welcome doctoral students who graduated in August or December 2022 that chose not to participate in the December 2022 Commencement ceremony, as well as undergraduate students anticipating degree completion in August 2023 to be recognized at the May 2023 School of Nursing Commencement ceremony.
Regalia
Academic regalia (cap, gown, and tassel) is REQUIRED for commencement for all students and faculty. The School of Nursing does not carry extra regalia or tassels to rent or borrow.  Regalia can be ordered through the HSC Bookstore by calling 304-293-4849, or through Herff-Jones. Cap & Gown order deadlines for Herff-Jones are:  
Early Bird Deadline for an extra $10 OFF Regalia: March 21, 2023 
Bookstore Pick Up: March 21, 2023 
HomeShip Delivery: April 12, 2023
If ordering from the Herff-Jones website, select the option for West Virginia University options, at which point you will be asked to choose your school, campus, or organization.  Undergraduate students enrolled in the Honors College should select "WVU Honors" and will receive gold regalia. All other students will select "WVU Health Sciences" and will receive blue regalia.  In the second drop down box, select "Nursing".  Please make sure you select the appropriate degree in the 3rddrop down box.  If you do not wish to order the offered Graduation Packages, you can click on the "Cap & Gown" option at the top of the page to order just the regalia. 
Commencement Ceremony Details
Arrive at 3:30 p.m. and report to the Gladys G. Davis Theatre
Check in at the registration desk to receive your name card.

Bring honor cords with you, if applicable. Please note that students anticipating August 2023 graduation will NOT receive Latin honors (Cum Laude, Magna Cum Laude, Summa Cum Laude) cords at this time.

Tip for those with hoods: use or bring a safety pin to secure your hood to the inside of your regalia for comfort.

BSN and BS/BA to BSN students graduating in May and August 2023 will receive their nursing pin attached to the name card.
Post-Graduate Certificate students will wear their hoods.
Masters and Doctoral students will carry their hoods and be hooded on stage.

Lineup begins at 4:00 p.m. 
Ceremony begins promptly at 4:30 p.m. and will last approximately 2 hours.
Degrees will be conferred and diploma covers will be given out at the ceremony.
All graduates who have earned hoods will be hooded (Masters and Doctoral students). Hoods will be carried in, draped over the left arm. Hooders should process in and sit with the graduate they are hooding. Faculty are required to wear regalia to participate.
Doctoral students will be hooded by their committee chair or advisor.
Per WVU University Events, only the names of students who are graduating with a degree in May will be printed in the Commencement program. Everyone who participates will have the opportunity to have your name announced, be pinned or hooded and walk across the stage.

Embracing our digital world and our commitment to sustainability, we are transitioning to an online Commencement program. Students, families and friends may access the online program by scanning the QR code, which will be displayed at the venues during Commencement ceremonies, or by visiting the graduation website at graduation.wvu.edu beginning May 8, 2023.

Diplomas will be mailed after all grades are finalized and certified by the WVU Office of the Registrar. 

WVU has contracted with GradImages to provide quality graduation photos of each student. Proofs will be emailed to the student within 48 hours of the ceremony.
Each ceremony will be livestreamed for those unable to attend in person. The webcast link will go live a few minutes prior to ceremony time. 
RSVPs for the School of Nursing May Commencement ceremony are required.  Please RSVP by April 21, 2023 to allow for proper planning. 
Parking
Parking will be available at the Creative Arts Center.
Clear Bag Policy
To provide a safer environment for guests and to ease entry into event venues, a Clear Bag Policy will be implemented for all commencement ceremonies.
WVU's Clear Bag Policy limits the size and type of bags that guests may bring into an event venue.
Guests with prohibited bags cannot enter. Please visit https://graduation.wvu.edu/clear-bag-policy for details or contact graduation@mail.wvu.edu with questions.
Accommodations for Out-of-Town Guests
The Morgantown area has a number of hotels for guests looking for overnight accommodations. Visit the Greater Morgantown Convention and Visitors Bureau  to book a hotel, as well as get information on activities and events in the area.