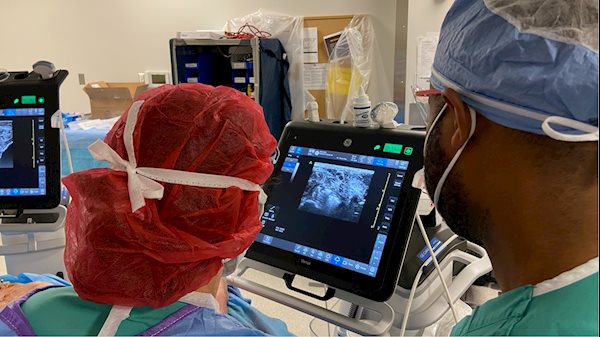 In early 2017, Dr. Aaron Ostrowski came to the West Virginia University School of Nursing to build the Doctor of Nursing Practice (DNP) Nurse Anesthetist program from the ground up.
"Dean Tara Hulsey and the School of Nursing took a chance on me as an eager, yet unproven, academic nurse anesthetist," Ostrowski said. While he had no solid administrative experience, Ostrowski said the support he received, paired with a healthy workplace culture, has allowed the program to thrive.
He drafted 24 clinical and didactic courses and a self-study for review and approval. Following submission of the self-study, a very successful on-site visit resulted in accreditation of the program by the Council on Accreditation of Nurse Anesthesia Educational Programs in October 2019.
And now, 15 students in the first cohort are celebrating their graduation from the program this December, including Keri Adams, Kelsey Boyd, Joe Britz, Shane Brost, Megan Bryant, Kristen Cottrill, Haley Durkacz, Megan Gillespie, Jamie Hanna, Jess Hughes, Jake Key, Lauryn MacFawn, Kassidy Nutter, Kenton Schrock and Jason Wampler.
"I've found that the essential ingredient to a successful program is the quality of the individuals admitted to the program," Ostrowski said. "I'm continually amazed at their sustained effort and high level of achievement. They have been the beta testers, the pioneers, and true Mountaineers to Go First on their climb up this Everest of a program."
Leading the way with both courage and enthusiasm, the students provided feedback during their courses, projects and rotations, allowing Ostrowski to make adjustments in real time.
"While we have to wait until January to see if our curriculum truly prepares the students for passing the National Certification Exam (NCE), I am confident that we will reach the satisfactory threshold with our first cohort. They are an excellent group of individuals."
Finding Their Fit
Megan Bryant, of Smoot, said while working as a bedside nurse, she enjoyed positions where she had to apply fast-paced critical thinking skills. After shadowing a Certified Registered Nurse Anesthetist, she knew that was the path she wanted to take.
When she learned WVU was starting a program, the Nashville resident knew it was time to return home.
"When I interviewed at WVU, it just felt like the right fit. I felt like Dr. Ostrowski believed in me, and I believed in him and all the work he put into building the curriculum," Bryant said. "It really showed me this was a program I could come to, even as a first-year program, and have confidence in the fact I would get trained adequately and appropriately to become a CRNA."
Kenton Schrock, of Garrett County, Maryland, also trusted the program early on. As he was evaluating different options across the country, he said he saw the newness of the WVU program as an asset.
"Knowing the reputation of WVU from my BSN, I felt this program would be up to date with the newest strategies. I also liked being part of the first class, helping to figure out things together."
He said he has always been interested in expanding his skillset for his patients — first as an EMT, then as an RN, and now as a DNP.
After graduation, both Schrock and Bryant plan to work at WVU Medicine J.W. Ruby Memorial Hospital. While Bryant hopes to find ways to improve access to care in rural areas, Schrock aspires to work in pediatric anesthesia care.
"This knowledge is a blessing and a wonderful tool," Bryant said. "I can't wait to use it to help people who really need healing." Schrock added that he considers the program "a life-changing opportunity" for which he is grateful.
For Interested Applicants
DNP Nurse Anesthetist students can expect a rigorous curriculum based in sciences including anatomy, physiology, pathophysiology, pharmacology, chemistry and physics. Applicants must have a Bachelor of Science in Nursing (BSN) from a nationally accredited nursing program, among other GPA and certification requirements. The full-time program requires 88 credits over three years or nine continuous semesters.
RNs with two to three years of ICU experience are more likely to have developed the skills and intuition required for nurse anesthetist training. Strong candidates will exhibit emotional intelligence and be considered a resource among their peers.
Upon completion of the program, graduates will earn a DNP degree and be eligible to sit for the National Certification Exam (NCE). Those who pass the NCE will become Certified Registered Nurse Anesthetists or CRNAs.
Ostrowski notes career satisfaction is high among CRNAs, and job security for the position is strong — nationally, the Bureau of Labor Statistics estimates a 13% increase in demand for nurse anesthetists by 2030.
For the WVU program specifically, Ostrowski said students get frequent, individual and expert attention from the professors, four of whom have been state organizational leaders.
"While we hold our students to high standards, we do so with compassion and care for the student and when applicable, their family," Ostrowski said.
Students also have access to numerous partners and resources, such as the WVU Health Sciences Center's WV STEPS (Simulation, Training and Education for Patient Safety) Center, which recently built a fully stocked operating room to add to its multiple general simulation rooms, skills labs, and patient care areas.
Aligned with the university's mission, nurse anesthetist students are also trained in the full scope of nurse anesthesia practice to care for West Virginians. Clinical site practice opportunities range from team-based care in major medical center experiences to independent CRNA practice in critical access hospitals. Graduates of this program will be able to provide their future patients with the full breadth and depth of anesthesia care.
Ostrowski said across the state, hospitals affiliated with the program have given very positive feedback about the quality of student trainees and recruit them even in early rotations.
"Locally, nearly half of the first cohort is taking a position at WVU Medicine – Ruby Memorial Hospital," he said, "But they would be willing and able to accommodate the entire cohort, so there is continued need to produce graduates."
To learn more, visit nursing.wvu.edu/students/graduate-programs.
-WVU-
CONTACT: Wendy Holdren
Director of Communications and Marketing
WVU School of Nursing
304-581-1772; wendy.holdren@hsc.wvu.edu