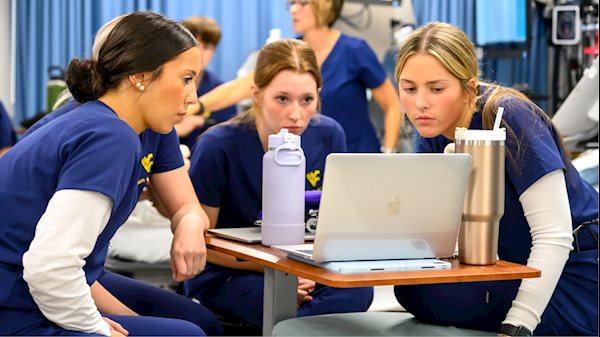 The West Virginia University School of Nursing is hosting a fall 2023 Virtual Open House for the Bachelor of Science in Nursing (BSN) program Wednesday, Nov. 29 at 6 p.m. EST.
This event will feature information for our nationally ranked BSN program, which is offered on the Morgantown, Beckley, and Keyser campuses.
Attendees can hear from a panel of guests, including Dean Tara Hulsey, School of Nursing faculty and staff and SON Student Ambassadors, all of whom will provide insight into the program and answer questions.
"Nursing is an incredibly rewarding career path, and opportunities are abundant for our graduates," Dean Hulsey said. "I hope interested students, both in-state and out-of-state, will join the conversation so they can discover what the WVU School of Nursing has to offer."
While the Virtual Open House is geared toward high school juniors and seniors, everyone is invited to attend. Specifically, attendees can learn about first-time freshman program entrance requirements, receive an in-depth overview of the nursing curriculum from BSN Director Dr. Tina Antill Keener, and experience a virtual WV STEPS Center (simulation lab) tour.
"This is a great opportunity to hear directly from current students and ask any questions you may have about your experience here," said Phillip Engelkemier, college recruitment specialist.
The WVU School of Nursing boasts a 91% first-time pass rate average among its three BSN campus locations. More than 70% of our most recent graduates applied for in-state licensure.
Please register online to receive Zoom information. For additional questions, please email Phillip.Engelkemier@hsc.wvu.edu.
Applications for the program will open Dec. 1. Visit nursing.wvu.edu to learn more.
The West Virginia University School of Nursing, established in 1960, offers innovative academic programs to meet the demands of an ever-changing healthcare landscape. Accredited by the Commission on Collegiate Nursing Education, the WVU School of Nursing offers undergraduate and graduate degree options at five campus locations and online.
-WVU-
CONTACT: Wendy Holdren
Director of Communications and Marketing
WVU School of Nursing
304-581-1772; wendy.holdren@hsc.wvu.edu