Meet Lexi.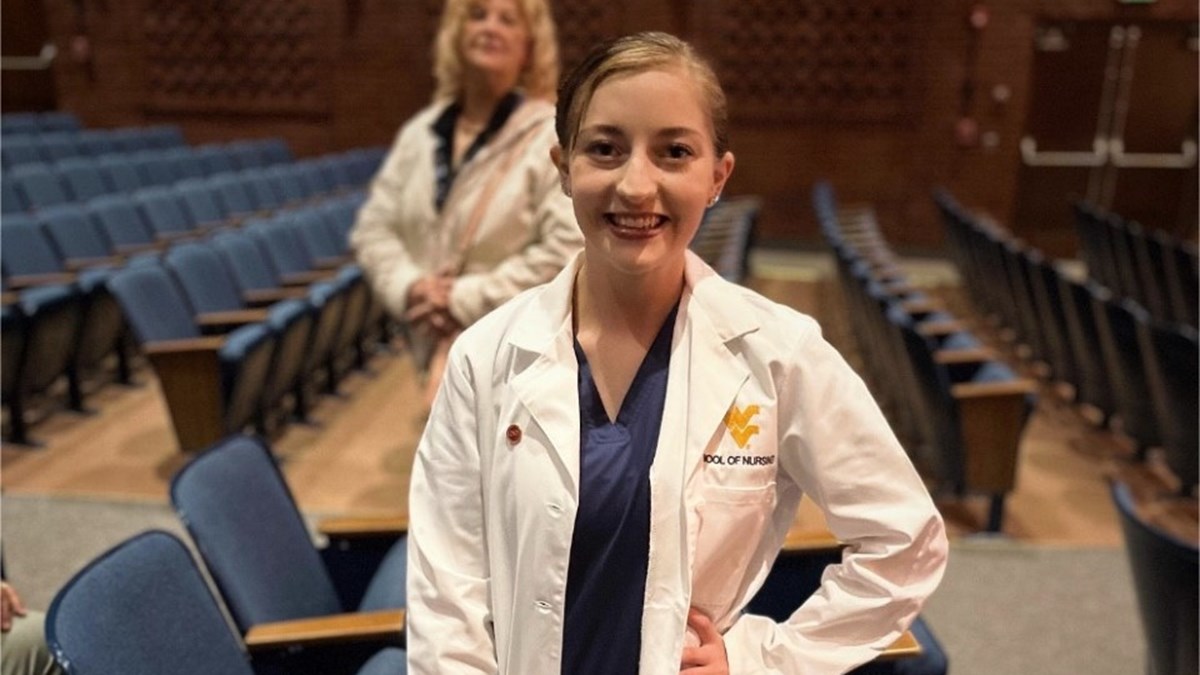 When she was in kindergarten, Alexis "Lexi" Orndorff remembers saying she wanted to be a veterinarian or a doctor when she grew up. But just a few years after sharing those dreams, she was diagnosed with leukemia.
"I was around 11 in the sixth grade," shared Orndorff, of Romney. "It was scary to be in the hospital and a bit intimidating, but I felt safe there. All the people at Ruby (Memorial Hospital) were really nice, especially all the nurses who helped me. They were kind of my family at that time."
Diagnosed with lymphoblastic leukemia, she was told that it was one of the more treatable types. She had to receive chemo treatments over the next two and a half years and remain on maintenance drugs afterward.
Due to her lowered immune system and other complications, including vascular necrosis that necessitated a bilateral hip replacement, she was homeschooled periodically throughout the rest of middle school and the beginning of her freshman year of high school.
"It was really hard, but my teachers were really cooperative," Orndorff said. "Going into high school is hard enough, not considering cancer. But my friends would visit me, and I tried to remain social. As I got into high school, I got better, and I joined the swim team during my freshman and sophomore years. It gave me something to feel more normal, being part of a team, especially since I was in sports before I had cancer."
She graduated from Hampshire High School in 2020 and she wanted to enroll in the nursing program at the West Virginia University School of Nursing Keyser Campus at Potomac State College, but she landed on a different major because she feared the nursing curriculum would be too challenging.
"I switched to criminal justice. I didn't mind it, but I was just learning it to know it. It didn't grab my attention. I had a few psychology courses in that program, and I was always more interested in the medical type courses."
When she was a month shy of her five-year cancer-free mark in February 2021, she was re-diagnosed, throwing her back into the medical environment once more. She received a stem cell transplant a few months later in June, spending about a month in the hospital due to her low immune system during a global pandemic.
Since then, Orndorff has being doing well — her blood work is coming back within normal range, and she's had an opportunity to re-evaluate her future.
"I remembered when I was first diagnosed, I had to go into this infusion area. The nurses there, seeing how they took care of me, how they knew what to say and how to make me feel better about the whole situation, I want to be that person for other people. If I can help out during someone's worst times, I would love to."
Orndorff has rededicated herself to her original dream of going into the medical field and becoming a nurse. She changed her major to pre-Bachelor of Science in Nursing (BSN) in fall 2021, and after applying for the BSN program in spring 2022, she was admitted the following fall. She says the professors at the Keyser Campus have been really understanding and willing to work with her throughout her medical journey.
Not only has the Potomac State team been supportive, they recognized Orndorff as a Catamounts Climb Higher award recipient. Climb Higher recipients are recognized for their ability to bounce back despite encountering obstacles, for overcoming challenges and for staying the course. Recipients are also recognized for their outstanding work ethic, kindness and a positive attitude.
"The award was definitely a shock," Orndorff said. "It was a motivation to me that my hard work isn't going unacknowledged, and it's been a driver to keep me pursuing my degree and everything beyond."
Orndorff plans to get her BSN, then work two years in the field, possibly in an ICU setting. Afterward, she plans to further her education and become a nurse anesthetist.
"A quality that makes a good nurse is being sympathetic, but if I know what you're going through, I can be empathetic, too," she said. "Having insider tips, just being able to relate to someone in a bad situation, it can make a difference."
Orndorff encourages everyone eligible to sign up for Be The Match, the national bone marrow/stem cell transplant registry.
"I wouldn't be here if not for someone who was willing to donate," she said. "I got to find out who my donor was and I have been texting her. My donor said, 'Knowing you were around my age, I definitely wanted to give you a chance.' It really gives you a lot of hope."