Meet Ty.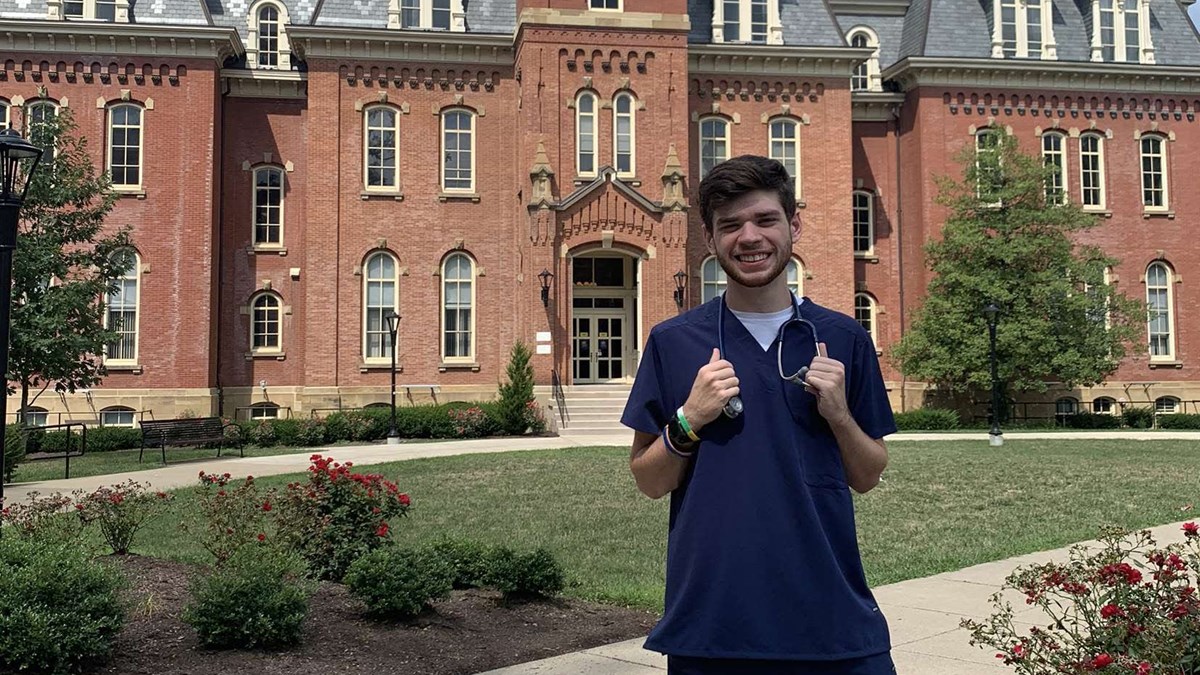 Making Connections, Making an Impact
Ty Flynn, a senior in the West Virginia University School of Nursing, has been appointed as director for WVU's Camp Kesem, an on-campus student organization that works with the National Kesem mission of being a child's friend through and beyond their parent or guardian's cancer. Camp Kesem works year round to create a space where kids can just be kids, have fun, and be with other children who understand their family struggles.
Flynn has been involved with Camp Kesem since his freshman year, first serving as a camp counselor then serving as a volunteer coordinator for the past two years. During his upcoming senior year, Flynn will serve as director. As director, Flynn will hire a team of coordinators, oversee the coordinator board, meet with the program coordinator, serve as a liaison between the WVU chapter and the national organization, hold meetings, plan events, and get counselors prepared for camp.
Flynn will also meet with the advisory board which is comprised of community members, alumni and additional members of the Kesem community who aid the chapter in making new connections and provide support for events, such as camp. Camp is a free, week-long overnight summer camp experience designed for children ages 6 to 18 who are impacted by a parent or guardian's cancer.
Originally, Flynn got involved with Camp Kesem his freshman year to earn volunteer hours as part of the School of Nursing's community service requirement, but after his first time at camp, the powerful experience he had with the kids made him want to continue his involvement.
"I never thought I would be a camp counselor but being able to serve this group of kids, who I did not know needed such a big support group, has been the most impactful thing to me," Flynn said. "Learning about the kids on a personal level, knowing what is going on in their life and being a support system for them is what Camp Kesem means to me.
"I think the most powerful thing that anyone needs is someone that knows what they are going through," Flynn explained. "Camp Kesem lets kids connect with others who are affected by cancer and allows them the space to be with each other and share stories which will have an impact on their lives.
"I used to be awkward around kids and now I am not, and I have fully embraced the camp counselor role and I am starting to become passionate about working with kids when I graduate," Flynn said.
Flynn's favorite part about being involved with WVU's Camp Kesem, which is a small chapter, is the advantage of getting to know each participant on a personal level.
"I know all of the kid's names, their parents' names and the activities they like," Flynn said. "They love when you remember things about them and can relate to the things they like, and I do not think I would be able to do that if we were a big chapter."
Flynn chose the School of Nursing because of the meaningful care that he can provide to patients and the rewarding experience that comes from this work. A native of Elkins, West Virginia, he is expected to graduate in May 2023 and hopes to work in the pediatric ICU or emergency department. After working for a couple years, Flynn then plans to continue his education by applying for a master's program.
Camp Kesem was held June 6-10, 2022, and the organization is looking for counselors, specifically male identifying counselors, along with any families that would be interested in sending their kid to camp. Any undergraduate college student can be a counselor, students who have already graduated can serve on the advisory board as well. If interested, email Ty Flynn at thf0004@mix.wvu.edu or Camp Kesem at WVU at wvu@kesem.org.