Meet Ateria.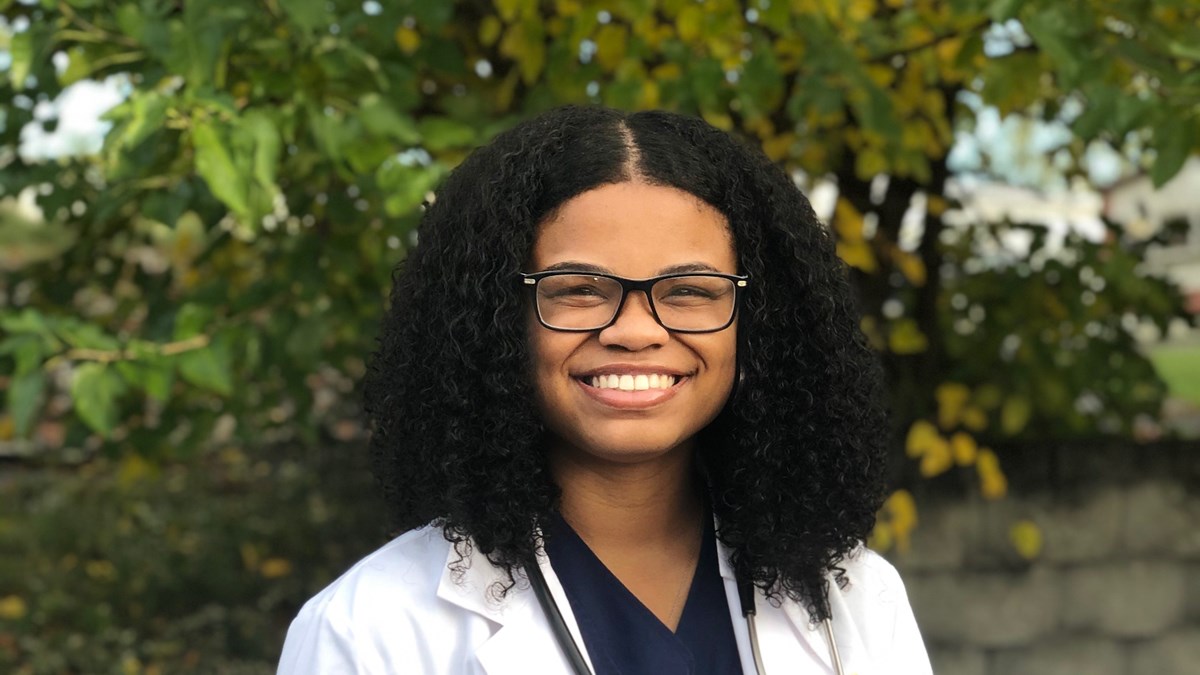 Forging a Path: School of Nursing student creates space, support for fellow students of color
When Ateria Walker first joined the West Virginia University School of Nursing, she noticed she was the only person of color in one of her classes and only about one of 10 in the Bachelor of Science in Nursing program. Rather than being discouraged, Walker saw an opportunity.
"It gave me motivation to make my voice heard, to form organizations to support diversity within the School of Nursing and the nursing profession," Walker said. "That's become my passion—to encourage minority students to join these healthcare-based majors."
Growing up in Wheeling, West Virginia, in a predominately white state, Walker said she was used to being the minority. She and her siblings were the only Black kids at their elementary school. The number of diverse classmates increased as they went to middle school and high school.
"WVU has an even larger number, but I'm still considered part of the minority," Walker shared.
Seeing the need to create safe, supportive spaces for her peers, Walker became a charter member in her sophomore year of the student organization Minorities Association of Pre-Healthcare Students (MAPS). She now serves as the organization's president.
"The members who created the group saw a need for an organization for minority students in healthcare—an organization to motivate, provide extra educational opportunities and support so students can have success in their major and in their career path," Walker said.
MAPS offers community, resources and access to peer and professional networks specific to different fields in healthcare, as well as study tables, service events and research opportunity connections.
"There's such a small number of us in healthcare professions," Walker said. "A lot of patients, if you don't look like them or have the same background as them, they feel like you don't understand where they're coming from, like you don't understand their thoughts and concerns."
She said receiving healthcare from someone who looks like you can mean a lot to some patients, and that diversity in healthcare can establish more trust within healthcare professions.
"The School of Nursing does a good job educating us about the signs and symptoms within certain patients with certain ethnicities compared to others," Walker noted. "Knowing what certain patients need specifically compared to others really helps as well."
---
She's already putting her education and clinical skills to use in her work as a nursing assistant at Ruby Memorial Hospital on the medical/surgical stepdown unit. She said the experience has enhanced her clinical skills, as well as helped her with her communication skill as she works with patients and other healthcare professionals.
"I knew from a very young age I wanted to do nursing," Walker said. "There are so many fields to go into once you're an RN. I knew I wanted to help people, and this felt like the best fit for me to be able to make a greater impact."
She chose WVU School of Nursing because of the affordability of an in-state school, as well as the level of education nursing students receive. She said she was especially impressed by the WV STEPS Center.
"The WVU School of Nursing gives you an opportunity to enhance your clinical skills so you can be the best nurse possible. The professors work with you in your classes and clinical rotations, and anything you're confused about, they try to go the extra mile to make sure you understand."
Her plan after graduating in May 2023 is to work in the cardiac intensive care unit, then apply to the Nurse Anesthetist program at the WVU School of Nursing.
"I liked how much interprofessional collaboration there was within the operating room and how important the role of the CRNA was for the patient and other healthcare providers in the room," Walker said. "I love education and want to get as much education as possible, so receiving a professional level education with be great for me, to learn as much as I can and still be able to help patients."
That desire to help has also prompted Walker to pursue a minor in addiction studies, as West Virginia has one of the highest opioid overdose death rates in the nation.
"There's a lot of stigma around it. Most healthcare professionals understand, but some aren't as knowledgeable as others or as nice to this patient population," Walker said. "I wanted to learn more about how to help this disease, because it basically takes over the patient's life. It can lead to many health conditions and personal issues in their life. I wanted to learn ways to help them and prevent stigma around it. These patients deserve just as much fair treatment as any other patient."
---
Helping others and creating community been an essential part of Walker's nursing education and her time at WVU. Not only did she help found MAPS, but she is the Community Outreach Representative for the Student Nurses Association.
"The SNA is made up of nursing students, so you can talk about classes, learn about upcoming events and help promote the joys of being a nursing student," Walker said. "We also do community service projects within the WVU campus and within Morgantown."
Walker has assisted with many SNA activities, including creating care packages for individuals experiencing homelessness, as well as hosting blood drives with the American Red Cross.
Additionally, Walker is a Presidential Student Ambassador, as well as an Honors College Ambassador. She recently helped form the Honors Student of Color Affinity Group, which creates a safe space for minority students to talk and share their experiences.
She considers her work with the student organizations, as well as Alpha Kappa Alpha Sorority Inc., WVU NAACP and WVU 100 Black Women, among her most influential experiences as a WVU student.
"I was born and raised in West Virginia and I've grown to love it," Walker said. "Even though there is a lack of diversity, the only way to improve the diversity within the state is if we stay here, to continue to get more diverse people to come and create an even better state of West Virginia."