Meet Helen.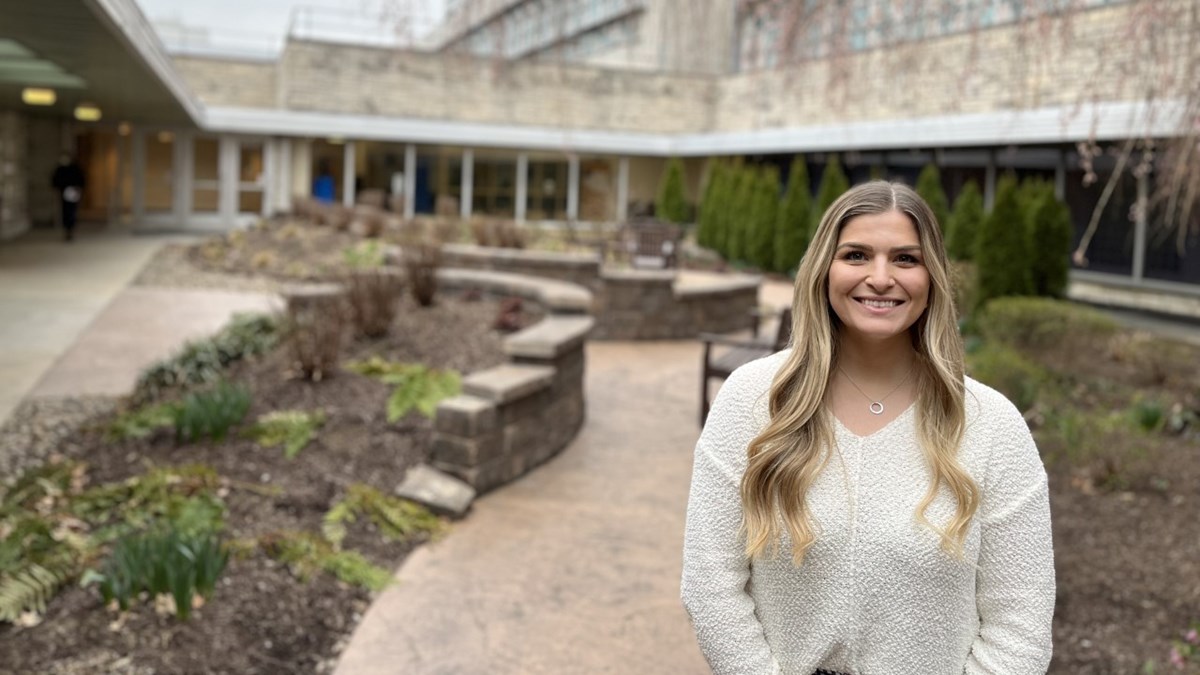 Helen Melnick has always been interested in the "why."
In addition to working as a Surgical/ Trauma ICU (SICU) nurse, Melnick is a second-year Family Nurse Practitioner student at the West Virginia University School of Nursing, where she is also a graduate research assistant.
"I've never been able to accept that we do something simply because 'that's how we've always done it.' I want to know why, and I found that research is what provides us with the answers to many of my questions, and guides us to provide safe and evidence based care," Melnick said.
"Research helps us change our practices with ways to be more efficient and improve outcomes, so that we can provide the best care possible to our patients, and continue to change the future of nursing and medicine."
Melnick's interest in research was piqued even before her time at West Virginia University.
"I was part of the Health Sciences & Technology Academy (HSTA) program in high school, so I got started in research early. It helped me learn the basics of how to present and how to best approach research."
She's done research for roughly five years now at WVU, starting in undergrad with WV-INBRE, which focuses on the education and training of the underserved Appalachian population in West Virginia in the realm of biomedical research.
After several years there, Melnick wanted to get more involved in research with the WVU School of Nursing.
"Angel Smothers presented to one of our classes and I was very interested in the research opportunities that she was presenting, so I met with her shortly after. She became my mentor early on, in my junior year. She kept me involved in research, and I worked on multiple papers with her as an undergraduate student."
Smothers also advocated for Melnick to become a graduate research assistant, which has assisted her with a stipend for her graduate studies and allowed her to continue her research. In her role, she manages and organizes data, as well as communicates with and recruits participants for studies.
"We're working on two pretty large NIH-funded studies," Melnick shared. "In an R-15 grant, we are managing a randomized controlled trial focusing on patients with congestive heart failure and their caregivers. In another, we're obtaining qualitative data through interviews with patients and their caregivers."
Melnick follows the participants and their data along each step of the process — from recruitment to analysis — and she helps keep the projects on track. 
"As a supplemental study to the congestive heart failure piece, we're looking at individuals who have dementia and CHF, which adds an additional layer of management and care. It's stressful for caregivers who have to care for a patient who not only has CHF, but may not remember that they have the diagnosis and as a result can make it very difficult to be compliant with CHF management," Melnick said.
"We're trying to obtain qualitative information from patients and caregivers about what they're struggling with and what their biggest hurdles are due to these dual diagnoses. Through this data we are hopeful to determine what resources would be beneficial to them."
---
"I actually didn't know that I wanted to be a nurse," Melnick shared about going into the field.
"I started at WVU as pre-med in biology. I wanted to go to PA or med school. I knew I wanted to work in medicine, but I had never been exposed to nursing. I grew up in a small town, where we didn't have a hospital and I didn't know what the scope of practice of a nurse could look like."
As she pursued her biology degree, she began shadowing healthcare professionals and learned more about the nursing profession.
"Once I learned what the field included, I was blown away by the diversity of what you can do as a nurse and all the advancement opportunities. There's so much room for change, and I like that. It's much better than being confined to one field once you choose it."
After going forward in the field, she said she couldn't be happier she chose nursing.
"I love being a nurse. It's hard, but I really love what I do as a nurse, and I love what I'm learning as a student nurse practitioner."
While Melnick is unsure what she would like to do after obtaining her graduate degree, she knows she loves education, so she says she could see herself teaching.
"I could see myself working part-time as a faculty member at a university while working as an FNP," Melnick said. "I hope education and research (clinical or institutional) will always be part of my life."
She said she's grateful to the WVU School of Nursing faculty, especially the research team, for being such great mentors and encouraging her in her programs.
"One great thing about our research department and team is they're good at making it a family environment. The research department is inclusive, and they make it a priority to establish collaborative work relationships with students outside the classroom so we can get to know one another."
Melnick also hopes to continue furthering her education to receive a DNP or PhD in the future.