Meet Evan.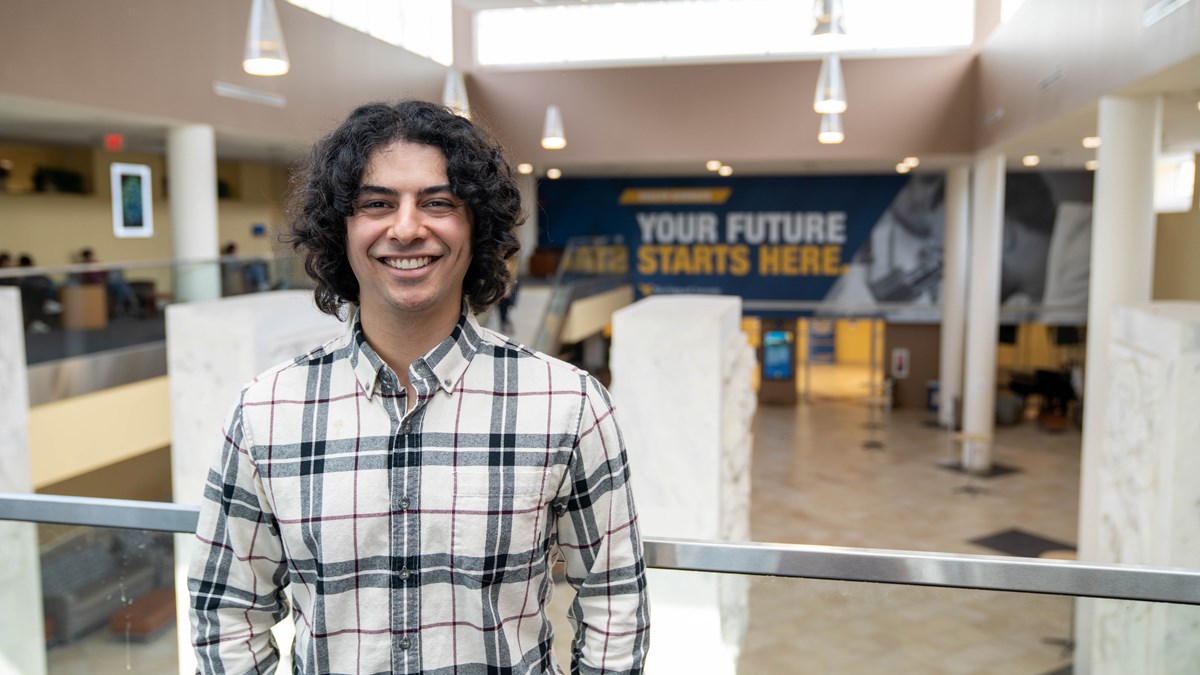 Learning How the Little Things Matter Most
For Evan Estrada, a member of the WVU School of Nursing Class of 2022, nursing has always been about the little things.
"I think it can be easy to look at patients as an assignment, but just talking to the patients can completely change everything," Estrada said. "So often, one-on-one talking can completely change someone's attitude, which can completely changes their prognosis. The patient is not their disease or whatever they're in the hospital for."
Estrada has always been interested in the medical field. He knew he wanted to go into healthcare since he was in middle school. In high school, he considered medical school, but he landed on nursing when he realized the impact nurses can have on holistic care.
"I grew up hearing great stories about nurses," Estrada shared. "When my mom was pregnant with me, she had appendicitis and I was a preemie, and we were in and out of the hospital for several months. We received great care from our nurses."
"As my parents told me the stories about the individual care — the little things — it's affected my entire life. It's my goal for every patient, to change their entire life. It's definitely a reassurance that I know this is what I want to do."
Estrada considers himself fortunate for the wealth of clinical experience he received during his time at the WVU School of Nursing.
"It's been amazing. I've experienced so many moments of feedback from my clinical instructors, other nurses or patients saying how even the small amounts of the care helped."
He remembers several of his patients saying "thank you" for doing something for them or offering to go out of his way to help, something even as small as applying Chapstick.
"In my last clinical, I had a patient who was intubated but awake and alert. Their lips were looking really bad, so I offered them some Chapstick. I like to think about what it would be like for me in the hospital, and what I would want."
---
After graduation, Estrada plans to do some traveling throughout Colombia and Central America. He'll then spend a few weeks at home and prepare for his move to Detroit, where he'll be working toward his DNP in Acute Pediatrics at Wayne State University.
"I think I've always wanted to work in peds. Going through nursing school only reaffirmed that. The possibility of having that long lasting impact on the pediatric population is really exciting," Estrada said. "During my pediatric rotation with clinical instructor Brad Phillips, I learned so much! It was so powerful and exciting to take care of and treat infants to age 21. There's so much going on in that time of someone's life, and it's really fascinating."
When choosing a nursing program, Estrada applied all over the country. He had committed to Louisiana State University, but his mom, who grew up in Suncrest, urged him to see the WVU campus.
"My grandfather was a professor here at WVU. He taught landscape architecture," Estrada said. "I have familial ties here, but the campus is the most beautiful out of any that I've seen. The outdoor life here, too, that's something I've definitely taken advantage of."
While in Morgantown, Estrada has gone skiing, hiking, backpacking, camping and whitewater rafting — all activities he'd never done before coming to the Mountain State.
"My best friend who I made in the nursing program here was in the Outdoor Recreation Club. She introduced me to so many new things, and through that, I've met other amazing people. I also learned the Rec Center rents gear for super cheap!"
During his time on campus, Estrada was a member of the Student Nurses Association. He served as the Freshman Outreach Chair, as well as Chair of Events and Fundraising. Estrada also served as president of the Chabad Jewish Student Center.
Finding these connections made a difference for Estrada, especially living so far away from home.
"It can be scary, especially if you don't know anybody. Just finding people that you have similarities with, it really makes the college experience easier."
Personally, recreationally and professionally, Estrada sees the next chapter of his life as an adventure.
"I like to think I am someone with a lot of ambition. I have no idea what my life will be like in 50 years. I do have plans, but plans don't always work out. Just looking forward, seeing what I'll be able to do with my life is so exciting."