Meet Carley K.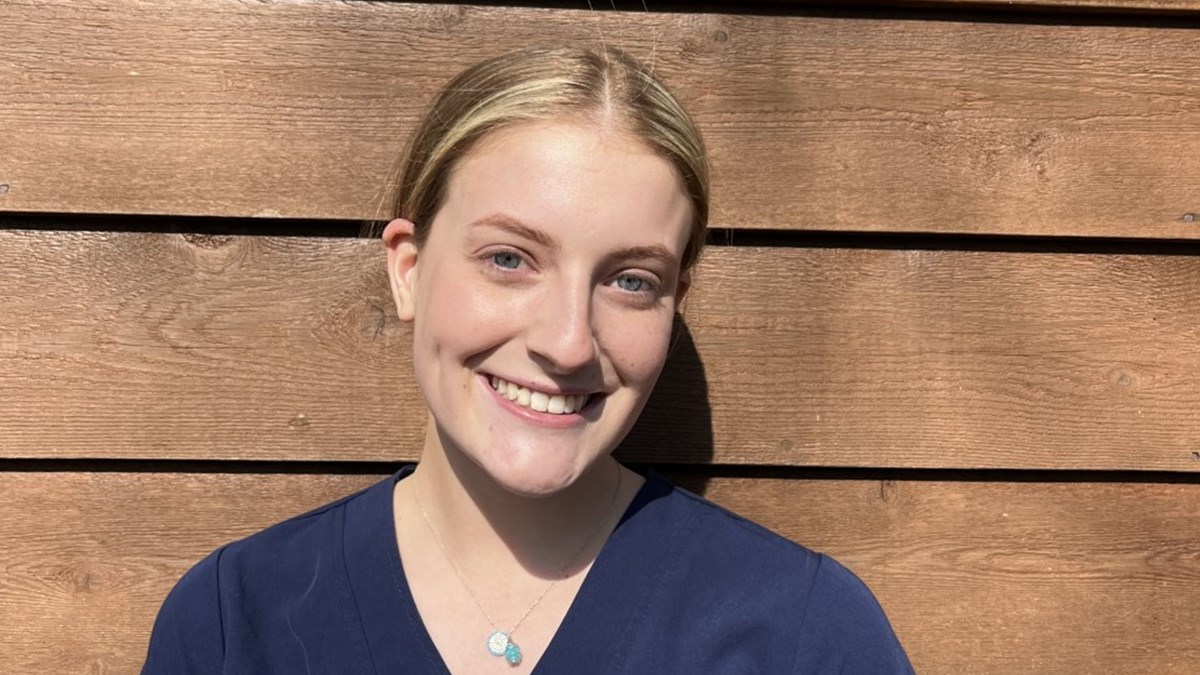 Supporting Those in Need: WVU nursing student establishes mental health organization at Beckley Campus
When Carley Knuckles joined the West Virginia University School of Nursing Beckley Campus, even coming from the nearby town of Shady Spring, she found the transition from high school to college challenging. She saw her peers—students who were on campus, commuters, and international students alike—struggle from time to time, especially during COVID-19.
Since she was in high school, Knuckles has been passionate about mental health. She reached out to her mentor, Peggy Fink, to ask if there was a mental health organization on the WVU Tech campus. When she learned there wasn't, she took action.
"I set up meetings with Active Minds, a national nonprofit organization supporting mental health awareness and education, and I started a chapter here on the Beckley Campus," Knuckles shared.
"I've had a lot of things happen in my past and I didn't know how to deal with it. I found people who were more aware of mental health concerns, prevention and resources who were able to guide me. I wanted to be that person for other people."
In addition to starting a chapter of Active Minds, Knuckles was offered a job with the Marshall University Research Corporation last summer and now serves as the Collegiate Prevention and Recovery Strategic Network student leader for WVU Tech.
"We try to focus on prevention efforts for substance use for college students," Knuckles said. "My job is to create a safe space on campus for those at risk or those going through recovery."
Knuckles says people are taught to recognize the signs and share the National Suicide Prevention Lifeline number, but direct and local information is sometime difficult to come by: "I wanted to do that for other people," she said.
Knuckles has made calls for people in need and even driven them to the hospital if necessary.
"I don't think without my nursing knowledge I'd have been able to do that," she shared. "Having that knowledge base made me feel more confident in what I was doing. It feels like I'm doing a service, like I'm doing exactly what I'm supposed to be doing."
---
Knuckles didn't initially consider nursing as a career. She was interested in psychology and wanted to become a counselor. But when a friend did a senior project on nursing, Knuckles decided to shadow a nurse to see if it would be a good fit.
"Since I wanted to learn more about the mind-body connection, I thought, 'Why not do nursing?' I ended up loving it. I didn't think I would love it as much as I did."
Knuckles' initial plan was to stay at the Beckley Campus for a year, then move to a larger university. But the tightknit campus relationships with her professors, counselors and classmates prompted her to stay.
"I realized my place was here," she said. "It is challenging. Every nursing school is going to be challenging. But we have an amazing community here."
Knuckles said she fell in love with the curriculum in nursing relating to neurology and spirituality. She found it refreshing that the coursework didn't just focus on the body. She also enjoyed learning about the variety of career paths you can have with a degree in nursing.
Her clinical experiences have only solidified her decision to become a nurse. She recalls her first clinical—she asked around to see if anyone needed help with anything.
"There was one patient who didn't need much help with activities for daily living, but I noticed her hair was a bit knotted, so I asked if she would like her hair washed," Knuckles recalled. "She cried because she was so grateful, just for having help with washing her hair. I thought, 'Wow. I'm in the right place. This is what I'm supposed to do.'"
She said she enjoys seeing different hospital settings as well, including rural and regional.
"We're getting a broad experience at different hospital levels, and once you have a great nurse to shadow you and precept you, it's amazing. Our OB clinical nurses were amazing. Each day, I came home from clinicals energized and ready to take on the day."
After graduation, Knuckles plans to get a multi-state license so she can figure out where is the best place for her. While she's not sure where she'll land, she said, "I just know that I want to explore a bit. I always think I'll come back to Appalachia though. It's home."
She hopes to work with pediatric mental and behavioral health patients. She also hopes to obtain her master's degree in Nurse Psychotherapy.